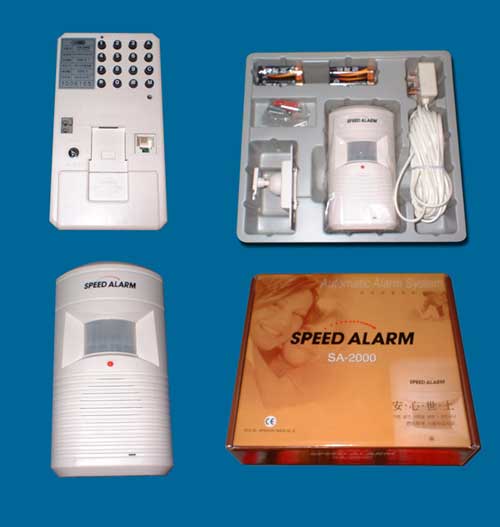 This alarm system, SA-2000, detects any movement and sends automatically alert
message/sound to the programmed numbers.
It consists of semiconductor circuit which reduces the size of the unit.
The sensor, with powerful detecting function ,perceives movement and informs you instantly
through programmed numbers of telephone,mobile phone or pager.
Features
Economical Low power usage and no additional maintenance cost.

Reliable Responds quickly and accurately to the programmed numbers with PIR and magnetic sensors which detect any moving objects.

Simple Easy to install and use. Moreover,it is easy to re-locate.

Dial up to two different phones or pagers within seconds ; you can be easily reached anytime.

Main SA 2000 Motion detector Standalone Security System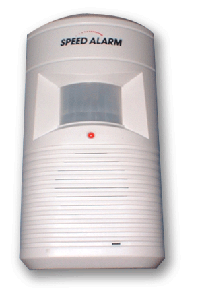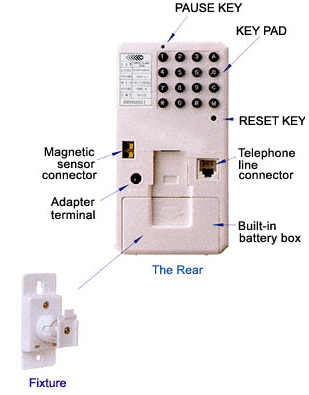 SA 2000 main unit                                  SA 2000 Back panel control

SA 2000 Detection range

Promotional Price for this product will be S$ 220.00

Accessories
| | |
| --- | --- |
| | Optional |
| | Optional |
| Optional | |
| | Optional |
The above accessories are supplied together with the main unit SA2000 unless those mark optional, thus system is very easy to install and set-up any where you need to be secured . All connections and installation is fully Do-it yourself.
How the system works?

System Specification

1. During operation, SA-2000 uses PIR and magnetic sensors to detect intrusion.
2. When any moving objects are detected,SA-2000 immediately dials your mobile phone,pager or telephone.
You can also hear actual sound from the scene.
3. A powerful siren, which is activated after the first notification,is enough to drive any intruder away.
4. SA-2000 offers the best protection for both the office and home.
Size/Weight : 70mm*128mm*49.5mm/249g ( include batteries )
Detecting Sensor : advanced PIR sensor
Power : Battery, AC Adapter( 9V,600mA ) Detecting Range : Horizontally-80°, Vertically-20° Detection
Distance : 8M
Sub Detecting Sensor : magnetic sensor
Siren : 90dB for 30 seconds
Operating temperature : -10°c~ 35°c
CLICK here for FAQ on the above product.
To purchase the above equipment please call or e-mail to sales@secureciti.com. Our sales personnel will get back to you.