Digital Video Recorder
EDR1600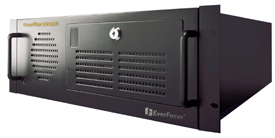 The EDR1600 is designed particularly for the security industry, seamlessly combining video multiplexing, digital recording, and motion detection. This cutting edge technology of hot swapping allows users to upgrade the storage capabilities or to replace the HDDs without turning off the digital video recorder. EDR1600 is a fully integrated recording solution which replaces the need for numerous analog components.
Features:
Full capability triplex multiplexing for simultaneous video observation, recording, and playback
16 color or B/W camera inputs with loop through
NTSC nad PAL system switchable
Video output:

1 VGA monitor output
1 S-Video monitor output
1 BNC composite video output

Call monitor: 1 BNC composite video output
Built-in MPEG-1 and JPEG compression
Full screen, 4, 7, 9, 10, 13, and 16 multiscreen display for monitoring playback
2 Hard Disks
Unlimited recording time by expanding additional HDDs in disk arrays
Hot swappable Hard Disks
Recording rate: 30fps for NTSC, 25fps for PAL
Playback rate: 30fps for NTSC, 25fps for PAL
Independent record and playback: a total of 60fps for NTSC and 50fps for PAL
Various recording modes: continuous recording, time-lapse recording, and event recording
The pre-recording function is capable of storing images 10 seconds before alarm inputs
24 alarm inputs with configurable actions at different times
8 alarm outputs (4NC/4NO)
Event logging for video loss, motion, and alarm input
Intelligent motion detection with programmable area and sensitivity for each camera
Motion detection area- 16(width) x 12 (height) matrix
Powerful alarm processor with configurable triggering conditions and reaction
Nonvolatile program memory protects all programmable features against power loss
System auto recovery after power failure guarantees robust security surveillance
Graphic User Interface for easy operation
Built-in real-time kernel, no windows OS is required
Password authentication for multiple users for high degree security
Programmable time and day modes of recording operation
10 character title generator for each camera input
Watchdog function for self-diagnosisi and auto rebooting on system hang-up
Radar search functions such as thumbnail and direct search for reduction of time
Fast retrieval of recorded video either by time, date, loacation or alarm status
Pre and post alarm recording for alarm, motion and video loss with adjustable frame rate for each camera
Each video input had time, date and title for easy identification
CD-player like playback function operation.
Specifications:
Video format:
NTSC/PAL auto sensing
Display format:
1, 4, 7, 9, 10, 13, 16
Video input:
16 camera inputs with loop through, 1 Vp-p/75ohm
Video output:

Main Monitor:

1 VGA monitor output, D-Sub 15pin
1 S-video monitor output, 1 Vp-p/75ohm
1 BNC composite video output, 1 vp-p/75ohm (optional)

Call Monitor:

1 BNC composite video output, 1 Vp-p/75ohm

Video compression:
MPEG-1 and JPEG
Resolution:
352 x 240 NTSC, 352 x 288 PAL
HDD storage:
Up to 18 sets HDD, 3.5" half height IDE
Flash memory:
8MB
Recording rate:
30 frames/sec (NTSC), 25 frames per sec (PAL)
Video loss detection:
Yes
Recording mode:
Time-lapse recording, event recording
Playback rate:
Up to 30 frames per second
Playback search:
Radar search
Video Freeze:
Yes
Video Loss Detection:
Yes
Ordering information:
EDR1600/F:16 channel digital video recorder, 110VAC
EDR1600/H:16 channel digital video recorder, 220VAC
EDR1600/K:16 channel digital video recorder, 240VAC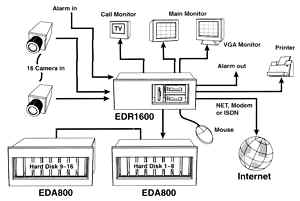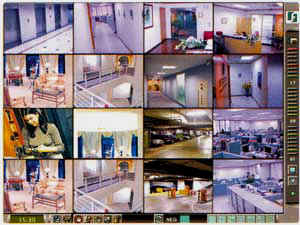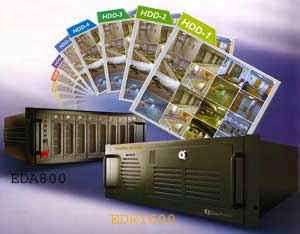 System Connection to other devices.
The above shows some of the other devices that can be connected to the EDR1600. As the image is store in digital format, this images can also be view over the internet, Which instantly convert the EDR1600 into a Digital Remote Monitoring system. Finally because the image is recorded in the hard disk instead of tape, they can be easily printed using a printer.
To purchase the above equipment please call or e-mail to
sales@secureciti.com
.
Our sales personnel will get back to you.