2.4 GHz Wireless Stereo Audio and Video Sender
RW-1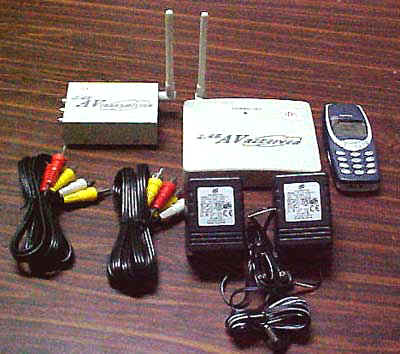 TAC No: LPREQ-0453-2002
Wireless
SecureCiti International after years of sourcing and testing on numerous wireless video and audio transmitter we have finally settle for AVS 2.4.
AVS2.4 is a 2.4 GHz wireless Video / Audio transmitter & receiver system. These product is designed to transmit any video and audio source (for example, TV, radio, CD, VCR, DVD, projector, cable or satellite signals) around the house, office, factories etc without the need for drilling holes to lay cables at all. This unit even send crystal clear audio signals. For remote surveillance AVS 2.4 can also be connected with any of our CCTV cameras, convention or miniature to be use as surveillance.
Surveillance
If a CCD camera is connected to AVS 2.4 it can be use as a monitoring device to watch your child, elderly, maids & nanny or even to monitor your cars, shop, factories, office and home.
Easy installation
This device can be connected to your existing VCR and TV set to be use as monitoring device. It can also be connected to high end security Time lapse recorder, DVR end even remote monitoring system etc.
Governmental approval and operating frequency
This wireless receiver and transmitter are useful in situation where laying of video and audio cable is impossible or in covert operation. Furthermore AVS 2.4 operate on Colour and B/W camera with audio. As this product is IDA approved and operate on the approved 2.4Ghz frequency it is 100% legal for use in Singapore, UK and most of Europe. They offer excellent picture quality and approx 150 metres in ideal conditions. When this system is install in building the operating distance is between 50 to 100 metres. They can work to a greater distance.
Features
Economical Low power usage and no additional maintenance cost.

Four selectable channel format.

NTSC & PAL system format.

Very simple to install relocate and absolutely no laying of cables are needed.

Transmit Video and Audio signal for up to 150 meter under ideal condition.

AVS 2.4 can even be link to our remote dial-in surveillance system.


Promotional Price for this product will be S$ 330.00

AVS 2.4 image
| | |
| --- | --- |
| | |
| | |
| | |
| | Phone not include |
System Specification
Frequency

Ch1=2413MHZ, Ch2=2432MHz,Ch3=2451 MHz, Ch4=2470MHz

RW1 Transmitter

RW 1 Receiver

RF output power
Regulated 94dbuv/3m
Regulated 94dbuv/3m
Antenna
DIPOLE
DIPOLE
Video input
RCA Jack, Composite Video 1Vp-p,75ohm
RCA*1, Jack, Composite Video 1Vp-p,75ohm
Video output
NIL
RCA*2, Jack, Composite Video 1Vp-p,75ohm
Audio input
Audio input RCA jack (R/L), 2Vp-p Max
RCA*2-L, RCA*2-R
Operation Temp
3 degree C to 45 degree C
3 degree C to 45 degree C
Consumption
12VDC, 160mA TYP
12VDC, 350mA
Weight
188gms
185gms
Storage Humidity
5% to 85% Non-condensing
5% to 85% Non-condensing
Operation Temp
3 degree C to 45 degree C
3 degree C to 45 degree C