Securitex Telephone line remote monitoring system.
The Securitex - Remote Tele-Eye system is design to transmit video through normal telephone line, now you do not need to travel to your remote site to see what is happening there, You can watch the activities from the comfort of your office and home. Your remote sites can be accessed easily using a PC or notebook via a telephone line. LOCALLY OR ABROAD, ANYTIME AND ANYWHERE. This system do not use broadband to operate thus is extremely suitable where the remote site do not have access to internet of broadband. Simply plug the Securitex-Remote Tele-Eye to the telephone outlet.  With the Remote Tele-Eye you do not need a computer on the remote site as well thus save you cost and maintenance. The above system allowed up to 4 cameras connection thus allow all angle of your remote site to be capture.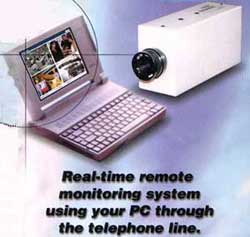 System do not include the laptop. Just the dial-up unit.
Features
Up to 16 cameras may be connected to one telephone line on site (Using daisy chain method).
Ability to copy still images and record continuous video.
Real time remote display surveillance.
Up to 4 cameras display simultaneously.
Built-in intruder detector. Can be configured to page 2 different persons upon detection. 45 frames of continuous video are then captured of the scene, which can be downloaded to a PC.
Able to connect to an external motion detector.
Image resolution 320 X 240 pixels colour.
Can be used in indoor and outdoor lighting environment.
Complements existing CCTV system and convert them to remote surveillance capability instantly. 
Remote Tele-Eye can connect maximum 16 cameras to 1 telephone line system configuration.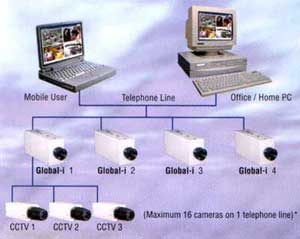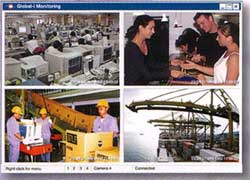 For the above configuration you do not need any computer on your remote site.
System comes with the following item (Fully DIY and can be connected to any analogue CCTV system running on the VCR or time lapse recorder)
1 unit Securitex -Remote Tele-eye controller c/w 1 unit colour camera (Design subject to change)

1 unit 5VDC power supply and the power cable.
1 unit additional 3 camera connecting cable

1 unit telephone cable.

1 unit system software come in CD Rom and manual.
Total cost of this product S$ 1350.00
For more product option you can visit us at http://www.securitex.com.sg or if you need special requirement or advice please feel free to email us at sales@securitex.com.sg or call 67852171. You can even fax-in to us at 65850107. Our experience and friendly technical sales engineer will be ready to answer all your enquires and even assist you in the pre-selection of the system.